About "Doctor PROFI" Medical Center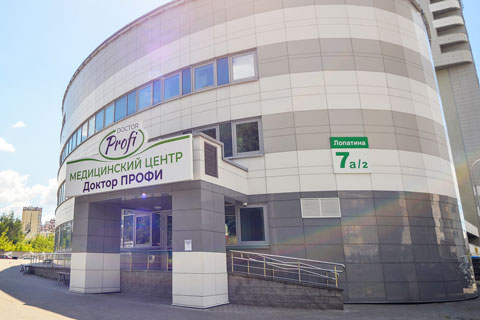 There are three main departments in our center:
The Medical and Diagnostic Center — where you can undergo necessary medical examinations, take tests, get an appointment with a specialist or get a treatment plan.
The Surgical Center — where you can get necessary treatment, including in-patient treatment, which is especially important for patients scheduled for surgery.
Dental Center — where you can get qualified help from the best dentists of Minsk who provide a wide range of services: from diagnosis to a full makeover of your beautiful and healthy smile!
Your health is our priority!
Your well-being is in good hands of experienced doctors and monitored by modern medical equipment.
Medical Center Photos:
The advantages and corporate philosophy of the "Doctor PROFI"
Or why patients trust their health to us!!

Patient
care

More
than 30 departments

Expert
Multidisciplinary Clinic

Successful
20-year work experience
In-house laboratory,
operational room and in-patient department

Professionals
with doctoral degrees

"Doctor PROFI" is a medicine of competence and focus on a high level of professionalism.
Doctors of the highest and the first category, associate professors and professors, work with us - doctors with a high level of professionalism and personal responsibility, able to work in a team and improve their skills continuously.


A wide spectrum of medical services and total reliability
We offer all types of the most advanced medical services. Our areas of expertise include gynecology, urology, proctology, ultrasound diagnostics, surgery, phlebology, pediatrics, laser dentistry and periodontics, orthopedics and orthodontics, implants and pediatric dentistry and others. We have equipped our clinic with modern and multifunctional equipment facilitating patient comfort as patient safety, and well-being are our primary concern.


High-tech medicine. Diagnosing the cause
Our task is not to start treatment but to understand the cause. For this purpose, we use various diagnostic methods (laboratory tests, ultrasound, tomography and laser, microscope and stereo microscope, etc.) which contribute to a correct diagnosis. We have subjugated exclusive techniques and have the maximum capabilities to improve the patient's quality of life.


Multidisciplinarity and full-service medicine
Patients can undergo both prophylactic treatment and complicated surgeries in the clinic. At the same time, it includes both high quality and a comprehensive approach. Because we are a team, where the work of each individual is subordinated to the only and equally important - making people healthy, beautiful and happy.


Sincere Medicine
There are times when treatment begins with adopting a healthy lifestyle. We can lower its cost for the obedient patient willing to accept and strictly adhere to our culture. One sign of it is having an assigned doctor. We build sincere relationships based on trust and understanding. Our patients become our friends. It is important to us that our patients are in dialogue with us, sharing their impressions and feedback. For our part, through our articles, e-resources, and now through videos and appointments as well, we will try to explain to our patients that both treatment and prevention of diseases are important.


Partnership
We cooperate with insurance companies, IT companies, residential buildings nearby. We are trusted.


Popularization of the profession. Being a doctor is not only happiness but also hard work.
To share experiences, doctors also participate in conferences where they share the latest medical trends.
Special permit (license):
Name of the licensing authority: Ministry of Public Health of the Republic of Belarus
Type of activity: Medical activity
License Status: In force
Name of the licensee: Limited Liability Company (ООО) "Doktor PROFI"
VATIN: 692149188
License number: M-8410
License number in the Unified Registry of Licenses: 32200000065076
Licensing decision number: 22.1
Date of licensing decision: July 31, 2020
Area validity of license: The Republic of Belarus
Special permit, 1
Information about the separate subdivisions/ branches/objects/warehouses, indicating the components of the licensed activity works and (or) services
Minsk reg., Minsk dist., Kopishche, Lopatin str (Ulitsa Lopatina), 7A/2:
anesthesiology and intensive care medicine
urology
ultrasound diagnostics
therapy
oral surgery
therapeutic dentistry
orthopedic dentistry
functional diagnostics
orthodontic dentistry
proctology
pediatrics
otorhinolaryngology
oncology
dental work
gynecology
radiological diagnostics: (dental)
Special permit, 2
Surgery, including plastic cosmetic surgery
View the license (PDF)