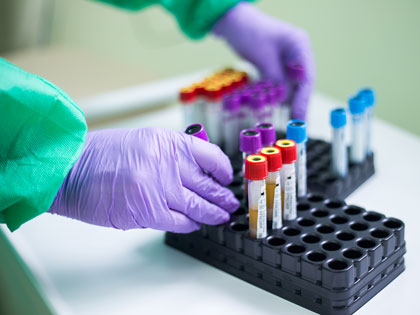 Are you looking for a place to do quality tests? Contact the clinic "Doctor Pro"!
Are According to WHO, tests provide the doctor with up to 80% of the information about the patient's health status.
Are To make a correct diagnosis, the therapist needs not only to examine the patient and listen to complaints, but also to send them to laboratory examinations (tests).
Are You can get a referral for tests in Minsk at an appointment with a general practitioner of the Doctor PROFI multidisciplinary center. After receiving the results, the therapist will help you decipher the tests and tell you how to proceed.
Are As a rule, tests are prescribed to the patient at least three times:
when making a diagnosis,
to monitor the recovery process,
immediately after the course of treatment.
High-quality tests are the key to the most effective treatment
If you do not pass tests, this can lead to an erroneous diagnosis or incomplete recovery, which is fraught with a relapse of the disease.
The equipment of the clinical and diagnostic laboratory allows you to quickly and accurately conduct research on materials.
If you are looking for a place to take tests in Minsk with maximum comfort, come to our center. Here you will pass all the necessary tests. You will receive the results as soon as they are ready – the originals in our center, the electronic version – by e-mail. Here you can get a consultation with a specialist doctor and find out your health status.
Analyzes in Minsk, carried out at Doctor PROFI:
Hormone tests
Allergen tests
Hematological examinations:
detailed blood test
Express tests:
Blood test for syphilis,
HIV,
Hepatitis B",
hepatitis "C".
Urological examinations:
General urine analysis,
urine analysis according to Nechiporenko.
Biochemical research:
lanin aminotransferase (ALT),
aspartate aminotransferase (AST),
albumen,
alpha-amylase,
total bilirubin,
direct bilirubin,
total protein,
glucose,
gamma glutamyl transpeptidase (GGT),
iron,
creatinine,
calcium,
high density lipoproteins (HDL),
urea,
uric acid,
triglycerides,
total cholesterol,
alkaline phosphatase.
Clinical researches:
blood tests for helminths,
microscopic examination of gynecological smears (from three points),
microscopic examination of andrological smears (from one point).