Dentistry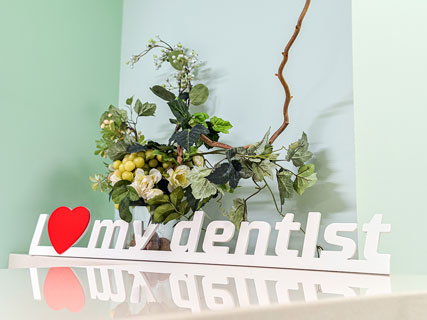 Are you looking for high-quality modern dentistry in Minsk? The Doctor Profi Medical Center employs professional dentists. In the arsenal of doctors advanced dental equipment that allows you to treat your teeth efficiently and comfortably.
The center's specialists provide a full range of dental services for children and adults:
preventive examinations, professional hygiene, bleaching, treatment of caries and pulpitis, implantation and prosthetics, bite correction, treatment of baby teeth, fissure sealing. We also successfully treat TMJ diseases and even snoring.
The first positive experience of visiting the dentist is very important for a child. Our doctors know how to interest and reassure a small patient. If you come to the appointment for the first time, the doctor will give you an interesting hygiene lesson. Your little one will know how important it is to take proper care of your teeth. And the doctor will also give the little brave a useful gift.
It is not uncommon for adults to be afraid of the dentist. With us, you will forget the pain and stress of going to the dentist. And even such operations as tooth extraction or implantation, according to our patients, are absolutely not terrible when you get into the cozy atmosphere of the center and in the hands of caring and friendly doctors.
Our priority is to take care of your health and provide a high level of service. We know for sure that beautiful and healthy teeth are the key to good health and success in work and personal life!
Your beautiful and healthy smile is what we work for! Make an appointment at the Doctor Profi Medical Center»
Dental services