Children's Dentistry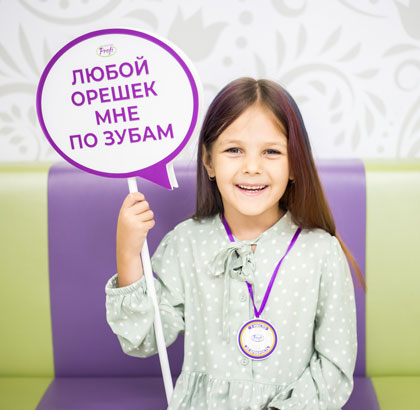 Dental treatment for children in our center takes place without tears and pain. Small patients are calm and not afraid of dentists, and the treatment does not cause a negative reaction. All because:
we find an approach to each child. The patient gets into the doctor and is not afraid of him, but treats him as a friend;
we show cartoons. The child sits in a comfortable chair and watches his favorite cartoons while the dentist gently manipulates his teeth;
we perform dental treatment under sedation. The patient inhales a special air mixture and relaxes, the treatment takes place without fear and pain. A visit to the dentist is no longer associated with pain and fear.
Treatment of baby teeth in children
If you postpone your visit to the pediatric dentist, tooth decay will develop quickly and can develop into dangerous pulpitis or periodontitis. This happens especially quickly on baby teeth.
We treat baby teeth in children quickly and without unnecessary pain. If the caries is superficial, you can do just professional cleaning. If caries has affected deeper tissues, we prepare and restore the tooth with a filling. The procedure takes place quickly and in conditions that are comfortable for the child.
Our clinic provides dental treatment for children:
caries treatment,
pulpitis treatment,
treatment of periodontitis,
treatment of gum diseases.
In our treatment, we use modern and safe materials and preparations that are suitable for children. If you are looking for a place to treat a child's tooth, come to our center – we have dentists who find an approach to any child and conduct treatment so that the child is not afraid and does not hurt, but interesting and exciting. Online booking