Dental Cleaning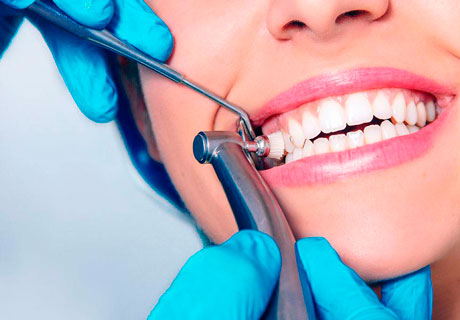 For a snow-white, beautiful smile, home hygiene is often not enough, with its help you can only remove soft plaque. And professional dental cleaning helps to remove tartar and plaque. It should be carried out, according to the recommendations of dentists, once every 6 months. This will avoid the appearance of caries, the development of its complications, as well as eliminate gum inflammation, prevent loosening and loss of teeth. Modern professional hygiene is not complete without the use of ultrasound, it allows you to perform the procedure quickly and efficiently.
Indications
Professional hygienic brushing of teeth is carried out at the following conditions:
tarnishing, yellowing of the enamel or the appearance of age spots on it;
bleeding gums, gingivitis;
bad breath, which is not eliminated after daily hygiene;
suspected tooth decay;
appointment of art restorations, as well as other dental procedures.
It is recommended to clean the oral cavity not only for indications, but also for preventive purposes.
Contraindications
For professional hygiene using ultrasound, there are a number of contraindications, namely::
epilepsy, as well as other pathologies of the nervous system;
using a pacemaker;
cardiovascular diseases;
diseases of the respiratory system: asthma, bronchitis, nasal congestion;
acute stages of inflammatory diseases.
Advantages of professional dental cleaning
Considering the procedure of complex professional oral hygiene, we can distinguish a number of its advantages:
plaque is removed from hard-to-reach areas, interdental spaces;
enamel and soft tissues are not damaged during cleaning;
eliminates bad breath from the oral cavity;
tooth enamel is lightened by 1-2 tones, while maintaining its natural whiteness;
all formulations used are hypoallergenic.
How to clean your teeth
First, the dentist examines the patient, determining the degree of plaque and identifying problem areas. If desired, local anesthesia can be used to relieve pain and discomfort.
Ultrasonic dental cleaning is performed in several stages:
The doctor removes tartar with an ultrasound device.
With the help of Air Flow technology (pressurized water-air mixture with abrasive), plaque is eliminated
The surface of each tooth is polished and coated with fluoride, which increases protection against caries and reduces sensitivity in the first days after the procedure.
In addition to the Air Flow technology, a PERIO-FLOW procedure is performed, which eliminates plaque from the periodontal pockets. This will ensure comprehensive hygiene of the entire oral cavity, reliably protecting against caries.
For an appointment, please call Contact7503 A1, MTS, Life. Online booking