One-stage dental implantation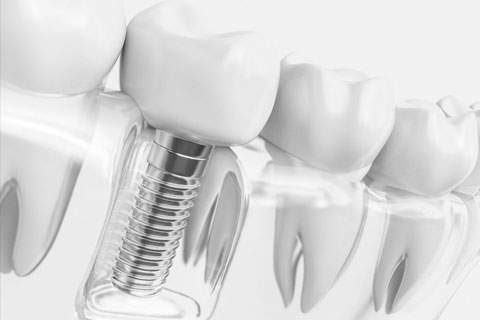 Dental implantation consists of two stages. First, the doctor removes the tooth, and then installs an artificial tooth root into the bone. In some cases, it takes time between the first and second stages for the bone to heal and recover. But you can insert an implant immediately after tooth extraction, in one session. This procedure is called one-time implantation.
In what cases is simultaneous implantation possible?
If the classical two-stage implantation has practically no contraindications, then one-stage implantation is not possible in all cases. So, one-stage implantation can be done if:
a tooth is lost due to trauma - dislocation or root fracture;
dense bone tissue;
there is enough bone tissue for the implant to firmly anchor in it;
implantation is performed on the lower jaw.
Immediate implantation options
There are several approaches to one-stage implantation.
With gum suturing
The dentist removes the tooth and immediately installs an implant in the hole - a threaded titanium rod. Then he sutures the gum. In this case, the artificial root is hidden inside, it is not visible in the mouth. Then you need to wait 3 - 6 months for the implant to take root. Then a control X-ray is taken, according to it, the doctor assesses the engraftment and, if all is well, proceeds to install the gum shaper and crown.
With FDM installation
Sometimes the surgeon decides to install a cuff former (FDM) immediately during implantation. Then a round metal washer will be visible in the mouth at the site of the extracted tooth. It serves to shape the desired gum contour for the artificial tooth.
It does not matter when the healing abutment is installed - immediately or already before prosthetics - this does not affect the engraftment of the implant.
With the installation of a temporary crown
If a tooth is removed where its absence is noticeable and brings you discomfort, you can fix a temporary crown immediately after the implantation. In this case, our surgeon will fix the gum former, and the orthopedist will make impressions for the crown. And on the same day you will receive a plastic crown. It is lightweight and will not overload a newly installed implant, but it will still look aesthetically pleasing. After the implant has completely taken root, the temporary crown is replaced with a permanent one - it can be made of cermet or zirconium.
How is a tooth implantation performed in one step?
Prior to single-stage implantation, you must:
take a 3D photo,
consult an implant surgeon and orthopedist,
sanitize the oral cavity: make a professional cleaning, cure all caries and pulpitis.
After that, implantation is performed:
remove a tooth
the implant is immediately installed in the hole,
if necessary, a temporary crown is installed.
After that, you need to wait 3 - 6 months for the implant to take root. After engraftment, prosthetics are performed - a crown is placed on the implant.
Dignity
Immediate implantation is in high demand, because tooth extraction and implant placement in one visit:
saves time - no need to go to the doctor twice and wait three months between appointments for the bone to heal;
the traumatic effect on the gums is carried out only once;
passes quickly - tooth extraction and implantation takes half an hour;
you can immediately install a temporary crown if the tooth is removed from the smile zone;
the bone shrinks less than with a two-stage implantation;
there is no need for a removable denture for the time between tooth extraction and implantation.
Immediate implantation in "Doctor PROFI"
For the implantation to be successful, you need not only a high-quality implant, but also the high professionalism of an implant surgeon. Our specialists have thousands of successful implantations. Our doctors are experienced and efficient in solving even complex clinical problems. If you need a high-quality implantation, please contact our clinic "Doctor PROFI".
Contraindications
The desire to remove a tooth and immediately place an implant is very tempting, but there are cases when it is better to wait a few months for the bone to heal, and only then carry out the implantation. Therefore, if our doctor advises to do a two-stage implantation, you should follow his advice. After all, you are interested in a successful tooth restoration as much as the doctor.
Contraindications to simultaneous implantation are as follows:
inflammation in the area where the tooth was extracted,
age less than 18 years old,
bone with a porous structure,
traumatic tooth extraction - this happens when removing unerupted teeth or those that have grown together with the bone,
serious illness or condition after a heart attack, stroke, taking blood-thinning drugs. Online booking