Dental treatment under a microscope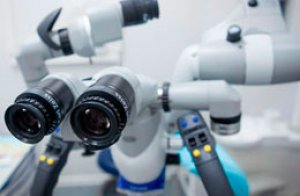 When a dentist treats a tooth, it mostly acts on the touch. The doctor may not be able to see small details with the naked eye, and his vision is limited by a mirror. It is difficult to treat channels in such conditions, and even careful, but blindly, study of each channel does not save from the likelihood of relapse of pulpitis and periodontitis.
Dental treatment under a microscope allows you to:
maintain a larger volume of healthy tooth tissue by reducing the size of the path to the root canals;
find the fourth channel;
save and cure a tooth that couldn't be cured using the classic method;
see and treat canal mouths.
Dental treatment under a microscope often becomes the only chance to cure and preserve a diseased tooth, especially if it was previously poorly healed.
When do I need dental treatment under a microscope?
Dental treatment under a microscope is used for any dental diseases. But there are cases when the use of a microscope is simply necessary:
when treating a tooth that has a complex canal structure;
in the treatment of tooth perforation;
if the channel is blocked or the channel cannot be found;
during diagnosis, when the doctor cannot see the cause of the patient's pain
and discomfort with the naked eye;
in cases where the classical treatment did not bring results;
in case of a tooth fracture.
Microscopic treatment provides a 95% guarantee of successful treatment even in difficult cases. If you need to repair the channels, eliminate caries without affecting healthy tissues, or cure the roots of your teeth, make an appointment for dental treatment under a microscope.
How does dental treatment work under a microscope?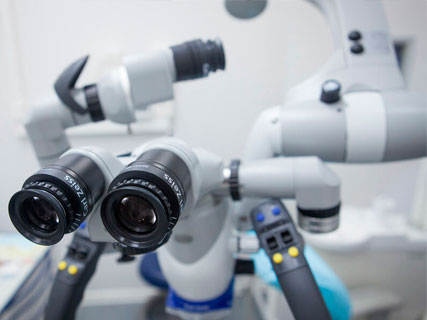 The patient is in a supine position. There is a greater distance between the doctor and the patient than in classical treatment. The main stages of treatment are photographed. The image from the microscope is transmitted to the screen in real time, and it can be seen not only by the doctor, but also by the assistant. This increases the speed of work.
Diseased tissues are carefully removed without affecting healthy ones. During treatment without a microscope, the dentist removes tissue "with a margin", and in this case there is no need to do so. Often, when treating teeth with a microscope, there is no need to take pictures of the teeth, so radiation exposure to the patient is avoided.
On treatment under a microscope, the reviews are positive: people who are already desperate to cure a bad tooth and were preparing for removal, decided to try the last chance. Our dentists completely cure complex cases under the microscope and preserve the tooth.
About all the advantages of a surgical microscope in the video will tell the dentist-therapist of the first qualification category Gorsheneva Nadezhda Viktorovna. ⠀
Enjoy watching it!⠀