Installation of Damon braces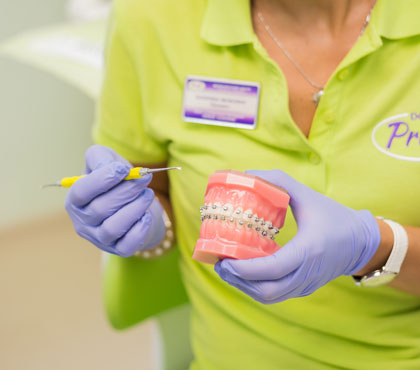 If a beautiful smile is not inherited from nature, then special orthodontic constructions will help to fix it. Damon braces occupy a leading position in the world of dentistry. They became popular due to their ligature-free system and quick results. Due to the absence of ligatures, the pressure on the teeth is not so strong, and therefore the discomfort is minimized.
A special glue is applied to the teeth, on which braces with flaps are attached. The flaps are connected by an orthodontic arch. Thanks to her, the structure holds and acts on the periodontic tissues.
Damon self-ligating braces look more aesthetically pleasing and invisible. Due to the mobility of the arches, the load on the teeth is evenly distributed. The procedure takes approximately 20 minutes.
Benefits of Damon braces
This system has several advantages:
can be installed in children from 12 years old;
for cleaning, a regular toothbrush, floss and rinse aid are used;
arcs need to be changed only if they have been physically affected;
even with great crowding, tooth extraction can be avoided;
teeth quickly adapt to self-ligating braces;
the opportunity to visit a doctor 2 times less than when installing conventional braces.
Types of Damon braces
Damon orthodontic restorations are available in several variations. This helps to achieve the desired effect in bite correction. Age and severity of pathology do not affect performance.
Damon Q
The Damon Q metal brace system was invented in 2009. High-strength steel is used for their production. Used to correct serious anomalies. Double grooves are provided for auxiliary elements. It is easy to change treatment tactics without completely removing the product at any time.
Damon Clear
Used when you need to put your smile in order. The ceramic braces system is designed for people whose life is connected with public speaking. Damon clear braces are transparent in color. The sliding mechanism allows the elements to move freely. Due to this, the teeth move faster without discomfort.
Recommendations for wearing Damon braces
The Damon self-ligating bracket system is easier to care for than its counterparts. In order not to run into trouble, you need to follow simple rules:
Clean your mouth after each meal. Care is carried out with a toothbrush, floss, rinse;
Monitor the temperature of the food. Hot and cold are contraindicated;
Avoid solid food that can damage the structure (crackers, seeds, apples, nuts, etc.);
Avoid coloring products (coffee, beets, etc.).
It is also important to adhere to your doctor's appointment schedule. After all, it is he who will be able to correct the treatment in time.
For an appointment, call Contacts 7503 A1, MTS, Life.