Installation of crowns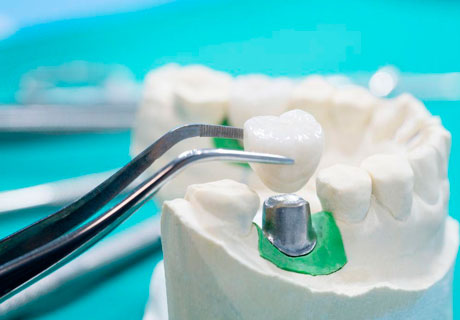 Using dental crowns is one of the most popular and affordable ways to restore a lost tooth.
Modern medicine has ensured that the crown does not catch the eye, but is as similar as possible to the dental plate in shape and color. The use of high-strength materials makes it possible to wear it for a long time, without dental intervention.
It is necessary to put a crown on the tooth with the following indications::
destruction of more than 60 percent;
if the treatment requires fixation of bridges;
the patient has abnormal changes in terms of structure, shape or color;
aesthetic defects;
splinting system;
inability to use other methods.
Varieties of crowns
The service life of a crown is determined by several factors, the main one being the method of attachment. There are two main ways to install crowns on your teeth: pin and tab. A more reliable and preferred method is the tab.
Also, the life of the crown depends on the material from which it is made:
Metal solid-cast crowns are the most durable, but not aesthetic. Another disadvantage is the difficulty of proper installation. Therefore, their popularity has noticeably declined recently.
Cermets, on the contrary, have become popular. The crowns consist of a metal coating on which a ceramic coating is applied. In order to install them, the tooth will need to be sharpened, but they will last a long time. The only drawback is that when installed on the front teeth, others will notice them.
Ceramic ones are most similar to real dental plates, they are installed most often instead of front teeth. Unfortunately, they are easily damaged, so it is recommended to exclude nuts and seeds from the diet.
Plastic ones are mainly used for temporary prosthetics, as their quality leaves much to be desired. They are not suitable for long-term wear, because the crown fixation is not reliable.
Experienced dentists of the Doctor PROFI medical Center will help you choose the perfect combination of price and quality. Modern medicine makes restorative materials that are difficult to distinguish from ordinary teeth and therefore you can keep a beautiful smile for a long time.
For an appointment, please call Contact 7503 A1, MTS, Life. Online booking