Teeth whitening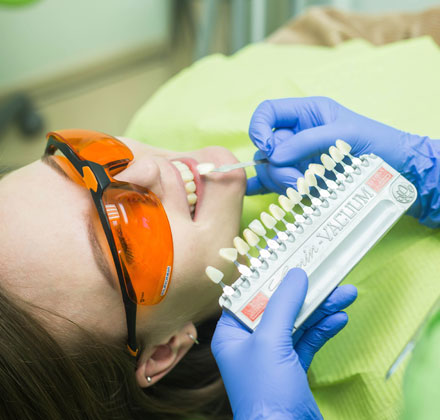 If you are not satisfied with the natural color of your teeth or their enamel has darkened and turned yellow over time, absorbing dyes from food, come to us for teeth whitening.
Despite the popularity of the service, not everyone decides to go through this procedure. We whiten our teeth without harming the enamel, on the contrary, we preserve it and give it a healthy white hue.
Types of teeth whitening
We use several safe and effective methods:
laser bleaching,
photo bleaching,
home bleaching.
We also have a special program for people who smoke. Its action is aimed at preserving the health and beauty of the smile.
How does laser teeth whitening work?
This procedure consists in the action of a laser on the teeth, due to which the enamel lightens and becomes denser, and therefore stronger.
First, the doctor examines the teeth. If there are no contraindications for the procedure, the dentist applies a special gel to the enamel of the teeth and turns on the laser.
Laser light activates oxygen production. It penetrates the tooth, removes colorants and saturates the enamel with active substances.
How does photo bleaching work?
This type of whitening is suitable for those who need to lighten their teeth a lot at a time. For one visit to our dentist, you will make the enamel 8-12 shades lighter.
If your teeth are fine, Doctor:
applies a gel to them,
protects the gums with special equipment,
fixes the lips with a dilator,
insulates soft tissues,
acts on the gel with halogen light.
Under the influence of a halogen lamp, the gel is activated. Usually, photo-bleaching is carried out in three sessions of 20 minutes each. The spent gel is removed and applied fresh. At the end of the procedure, the teeth become much lighter.
How does home bleaching work?
This is a procedure that does not require a visit to the dentist. You do it at home when you feel comfortable. We will make an individual mouth guard for you, fill it with a special composition and indicate the duration of the course and the frequency of wearing the mouth guard. Usually the course lasts 1-2 months with the use of a mouth guard from 4 hours a day or putting it on at night.
Such teeth whitening at home is also effective and does not harm the teeth. You will receive expert recommendations on how to take care of your teeth during the course of whitening and at the end of it, in order to fix the result.