Phlebologist consultation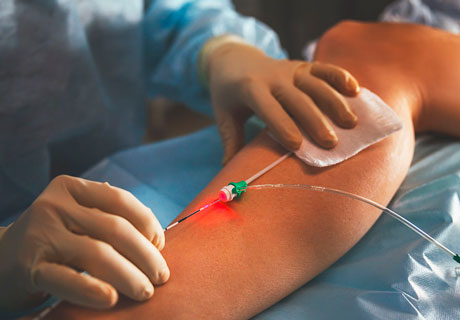 The most common reason for contacting a phlebologist is the appearance of varicose veins. However, doctors of this specialty identify and treat a wide range of diseases, such as: thrombophlebitis, deep vein thrombosis, trophic ulcers that appear on the skin of the legs, impaired venous patency, vascular meshes and vascular asterisks. The initial consultation of the phlebologist includes a survey of the patient to collect information about the history of the disease and an examination to determine the localization of the disease and the appointment of further ultrasound examination.
It is very important to consult a specialist at an early stage of the disease, when the following symptoms appear:
enlarged veins in the leg area;
swelling of the feet and legs in the evening;
painful sensations in the lower extremities, cramps, burning;
discoloration of the skin of the legs;
the appearance of spider veins and meshes.
You can make an appointment with a phlebologist and get detailed advice at the DoctorPROFI medical center, and, if necessary, you can carry out all types of examinations of venous vessels here.
With timely treatment, the specialists of our clinic will be able to quickly help the patient get rid of varicose veins with the help of innovative sclerotherapy and EVLK procedures.
For an appointment, call Contacts: 7503 A1, MTS, Life. Online booking