Endovenous laser coagulation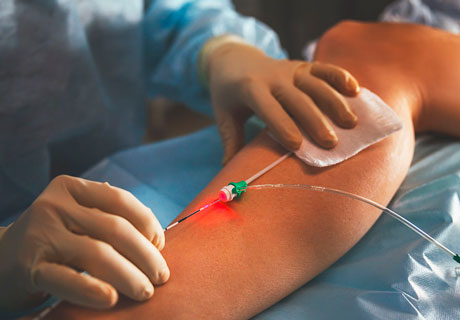 Both women and men face the problem of varicose veins. Conservative methods of treating this disease are becoming a thing of the past and are being replaced by new, less traumatic ones. One of these new methods is endovenous laser coagulation (EVLK), the principle of which is to heat the walls of the veins with a laser and stick them together, so the blood no longer flows into the treated vessel.
The advantages of this method of treatment are:
safety (lower percentage of complications compared to surgical operations);
low trauma (the procedure is minimally invasive and is performed through a puncture or micro-incision of the skin);
treatment can be performed in the presence of trophic ulcers.
Indications for surgery
The appointment of endovenous laser coagulation of the veins of the lower extremities is carried out according to the following indications:
the presence of spider veins and varicose veins;
developing thrombophlebitis;
trophic ulcers.
For a successful operation, the diameter of the vein should not exceed 10-12 mm, and its location should be less tortuous.
Contraindications
The operation of laser removal of varicose veins has such contraindications as:
inflammatory processes on the skin in the area of the planned procedure;
pregnancy and breastfeeding;
violation of blood clotting;
diseases of the musculoskeletal system, in which the function of walking is
impaired;
vascular atherosclerosis.

Preparing for EVLK

Before the operation of laser removal of veins on the legs, the patient is assigned a number of preparatory measures, namely:

phlebologist consultation;
general analysis of blood, urine, blood for clotting, HIV, hepatitis;
ultrasound examination of veins.

In the absence of contraindications, an operation is prescribed, 4 hours before which you need to stop eating. You must come to the procedure with shaved legs and take compression underwear with you. How is endovenous laser coagulation performed?

The procedure for removing varicose veins using a laser begins with the introduction of a local anesthetic into the area of the operation, its dosage is calculated individually for each patient.

At the next stage, the phlebologist inserts a special thin wire into the vein, which is a kind of catheter for laser equipment.

Then the device is passed through the entire diseased part of the vessel and, under the influence of a laser beam, its walls are sealed, and resorption begins. After a few months, it will be almost impossible to find the site for laser coagulation of varicose veins.

After completing the manipulations, the catheter is carefully removed from the vein, and a bandage is applied to the site of its introduction. The total operation time does not exceed one hour. If there are no complications, the patient is sent home.

After operation

To avoid side effects and to recover quickly after the procedure, it is required to wear special compression garments. In the first days after laser coagulation, you must drink plenty of fluids. During the entire rehabilitation period (from one to two to three months), you need to stop drinking alcohol and walk for at least one hour a day. Women are advised not to wear high-heeled shoes. For several weeks, physical activity should be excluded, as well as visits to the baths and saunas.

For an appointment, call Contacts7503 A1, MTS, Life. Online booking