Plastic surgery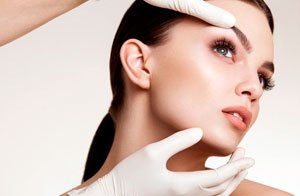 Plastic surgeries on the face and other parts of the body have become available to everyone. The best plastic surgeons in the country work in our clinic. They perform reconstructive and aesthetic plastics. Reconstructive plastic corrects congenital and acquired defects, partially or completely restores the lost functions of organs. Aesthetic surgery fights against age-related changes in appearance and corrects the imperfections in appearance that the patient wants to change in himself.
Both directions are often combined. For example, in the case of breast plastic surgery. Mammoplasty allows you to both correct the shape and size of the breast, and restore the mammary glands after amputation.
Features of our plastic surgery center
We employ experienced highly qualified specialists, whose portfolio includes hundreds of pairs of photos before and after plastic surgery. We use minimally invasive techniques that provide a short recovery period. During the consultation, we simulate the result on a computer to show the client and help him decide.
A truly high-quality operation cannot be cheap. Plastic surgery in Minsk is one of the most expensive areas in medicine. And there is a logical explanation for this: the labor of professionals cannot cost little, the work is also very painstaking, often jewelry, and operating rooms are equipped with imported modern technology. Thanks to this, our clients get the result they wanted.
Plastic Surgery Center: types of services
In our center of cosmetology and plastic surgery, the following plastic surgeries on the face and body are performed:
plastic surgery of the eyelids (blepharoplasty),
forehead and eyebrow lift (frontlifting),
neck lift, chin lift,
circular facelift,
filament facelift (ligature plastic),
ear reshaping (otoplasty),
correction of the shape of the nose (rhinoplasty),
breast correction / lift,
breast plastic surgery (mammoplasty),
liposuction,
lifting of the skin of the hands (brachioplasty),
plastic surgery of the abdomen (abdominoplasty),
lifting of the buttocks, thighs.
If necessary, during one intervention, it is possible to carry out several operations at once. Such one-stage operations are called summarized, and they are successfully carried out by the specialists of our center "Doctor Profi".
Plastic surgeon of the clinic "Doctor PROFI"