Rhinoplasty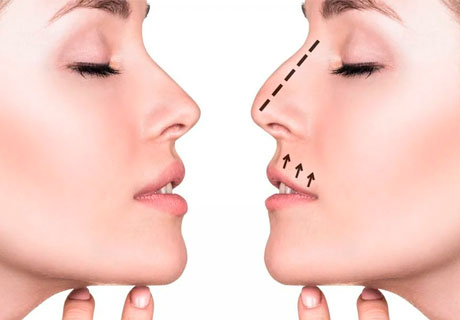 Today one of the most popular plastic surgery operations is rhinoplasty. It is a surgical procedure that allows you to reshape your nose, making it perfect. Also, during plastic surgery, it is possible to correct the curvature of the nasal septum, thereby solving breathing problems. It is also an important factor for the patient.
Indications for rhinoplasty
All indications for plastic surgery on the nose can be divided into 2 large groups - aesthetic and medical.
Aesthetic indications include wishes for correcting appearance, such as:
correction of a hump on the nose;
tip shape correction;
shape correction with "potatoes";
correction of the distance between the nose and upper lip;
change in the width of the nasal back;
decrease in the size of the nostrils;
size correction;
alignment of the nose;
alignment of the partition.
There are much fewer medical indications, they are much more serious. These include burns, frostbite, injuries and fractures of the nasal bones.
How is the operation going
Initially, the preparation follows a scenario similar to the preparation for standard plastic surgery. The patient undergoes tests. If nothing critical has been identified, then a date is assigned. A nose job is performed under general anesthesia. The duration of the operation is one to two hours.
There are three types of correction:
Septoplasty is an operation whose main goal is to correct the nasal septum. Closed rhinoplasty - used for a small amount of work. The skin is removed from the cartilage and bone with multiple incisions. Then comes the stage of correction - the removal / extension of the part. The skin is sutured.
Open rhinoplasty - used for a significant amount of work. Initially, the plastic surgeon exfoliates the tissue, exposes the cartilaginous and bony nasal structures. Further, if necessary, the doctor removes the hump, narrows the nose or makes other adjustments.
The plastic is completed by the fact that a fixing plaster bandage is applied to the patient. Tampons must be inserted into the nasal passages.
After operation
To recover from surgery, a bandage must be worn for 10-15 days. For a week, swelling persists on the face, but sometimes the recovery period can take up to a month. Rhinoplasty is often accompanied by swelling of the nasal septum, which makes breathing difficult. Patients are prohibited from eating hot food and drinks. In the first week of rehabilitation, it is recommended to sneeze and cough as little as possible, and also to limit physical activity for a month. After discharge, doctors recommend following a special diet based on soft foods without spices so as not to cause unnecessary irritation. To speed up healing, special drops and an antiseptic are used. Online booking