Hysteroscopy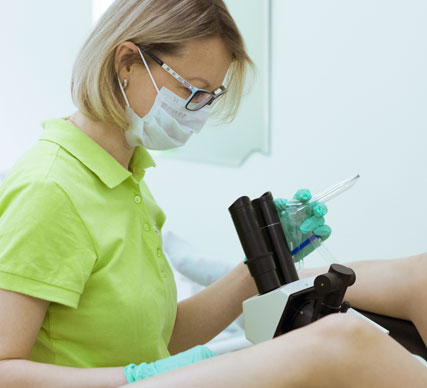 For high-quality and prompt diagnosis of diseases of the cervix and uterine cavity, such a modern endoscopic procedure as hysteroscopy is used. This research method allows you to examine and study the uterine cavity, and in the case of diagnosing diseases, to carry out medical manipulations. There are 2 types of hysteroscopy:
diagnostic or office hysteroscopy, in which the inner layer of the uterus is examined, the mucous membranes are examined, and material is taken for histology;
operative or hysteroresectoscopy, which is used to remove pathological formations (endometrial polyps, myoma nodes), is performed under general anesthesia in a hospital setting.
A control procedure can be assigned to observe and evaluate the result of the operation.
Indications for hysteroscopy
The purpose of the procedure is not only to diagnose pathologies, but also to treat them, therefore it is prescribed in the following cases:
suspicion of the development of a benign or malignant tumor;
manifestation of changes in the state and structure of the endometrium;
frequent cases of miscarriage;
menstrual irregularities, heavy bleeding;
suspicion of malformations of the cervix, falopian tubes;
elimination of benign proliferation of endometrial tissue;
removal of the polyp;
the presence of an adhesive process in the uterus;
removal of the intrauterine device from the uterine cavity and other cases.
The procedure for diagnostic hysteroscopy is prescribed only if it is impossible to accurately diagnose using non-invasive techniques (ultrasound, smear on microflora, and others).
How is the procedure
Routine hysteroscopy is performed on the 5-7th day of the cycle, when the endometrium is thin, but according to the doctor's prescription it can be prescribed 3-5 days before the end of the cycle, in an emergency, it is performed at any time.
Before the procedure, the patient is placed in a gynecological chair and anesthesia is administered. A thin tube with optical equipment is inserted through the cervix into the uterine cavity, which allows you to see the image on the monitor. After the diagnosis, if necessary, therapeutic measures are carried out with the help of surgical instruments introduced through a tube - a hysteroscope. After carrying out all the necessary research and manipulations, the tube is removed from the vagina, the patient is transferred to the ward to monitor her condition.
For an appointment, call Contacts7503 A1, MTS, Life. Online booking