Otorhinolaryngology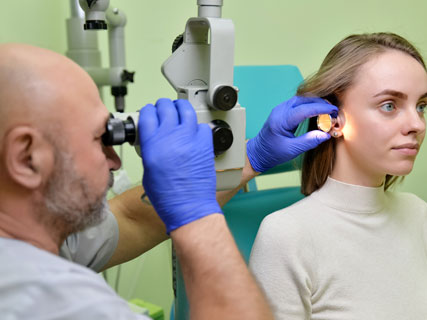 If you have a sore throat, a prolonged runny nose, pain or pressure in your ears, you should see your doctor. Paid ENT consultation is available at the Doctor Profi Medical Center. Children and adults are welcomed.
It is very important in the treatment of diseases of the ear, throat, nose to timely and correctly diagnose the cause of the disease. Highly qualified doctors and modern diagnostic equipment in our center will make it possible to correctly diagnose and prescribe effective treatment.
In what cases it is worth contacting an ENT doctor:
Difficulty nasal breathing;
frequent nosebleeds;
prolonged runny nose and cough;
discomfort or pain in the nose, upper jaw, temples;
the appearance of swelling of the forehead, cheeks, upper lip, eyelids; severe pain in the forehead and eyes, radiating to the back of the head or temples;
enlargement of the cervical and ear lymph nodes;
bad breath;
snore;
pain or discharge from the ear;
difficulty swallowing, redness of the throat.
Fast and effective treatment of the disease is possible with timely referral to a specialist. If the above symptoms appear, you should make an appointment with Laura. The doctors of our center will help you restore your health!
Sign up for a consultation at the Doctor Profi Medical Center. Online booking
ENT doctors of the clinic "Doctor PROFI"