Proctology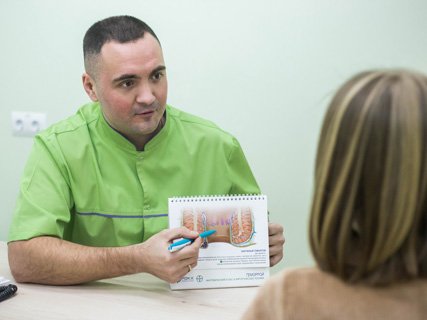 In the medical center "Doctor Profi" you can get a high-quality consultation of a proctologist in Minsk. Our specialists have all the necessary knowledge to solve your health problem effectively.
The issues that fall within the competence of the proctologist, as the rules, are delicate. For this reason, people postpone the visit to the doctor and self-medicate. Self-medication can be hazardous to your health! Early detection of the disease avoids complications and surgeries.
What the proctologist treats:
Hemorrhoids
Cracked rectum
Anal itching
Constipation, diarrhea
Acute and chronic colitis
Anal sphincter incontinence
Various injuries
Removal of foreign bodies
Polyposis
Paraproctitis, proctitis, cryptitis
Proctosigmoiditis
Perianal warts
Congenital anomalies of the rectal area
Coccygeal cyst
Pain neurological syndrome
Rectal prolapse
Fistulas
Colon cancer
The polite and delicate doctor-proctologist of the Doctor Profi center will treat your problem with care and understanding. Do not be afraid to contact a specialist and do not delay - health is the most valuable resource of your body. Make an appointment! Online booking
Proctologists of the clinic "Doctor PROFI"
Proctologist
The highest qualification category
Proctologist
Candidate of Medical Sciences, the highest qualification category
Proctologist
The first qualification category