Laser treatment for hemorrhoids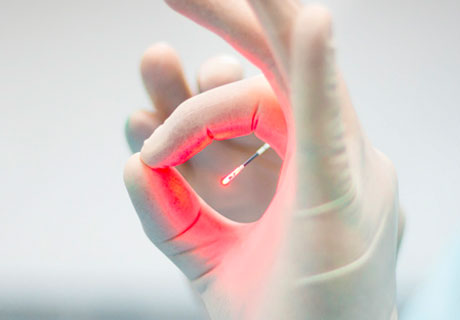 If you cannot cure hemorrhoids with conservative methods, such as suppositories, ointments or pills, such a method of getting rid of the disease as laser treatment of hemorrhoids is used. Its impact is:
pinpoint tissue removal where needed;
destruction of microbes in the wound area;
sealing the vessels to eliminate bleeding;
destruction of nerve endings, contributing to the death of tissue in the desired place.
With the help of laser coagulation, internal and external hemorrhoids are removed at stages 1-3 of the disease. The essence of the technique is the point effect of a laser beam alternately on all layers of the node and bumps, in the place of which small wounds remain, they become crusty over time and heal. Blood with nutrients no longer flows to the lesion and the re-formation of nodes does not occur. When hemorrhoids are combined with a fissure of the rectum, the laser removal procedure allows you to get rid of two diseases at the same time.
Features of laser coagulation
In comparison with other methods, laser treatment of hemorrhoids has the following advantages:
painlessness;
quick recovery after the procedure;
lack of blood during manipulations;
low probability of reappearance of nodes.
Medical indications for the removal of hemorrhoids by laser coagulation are:
anorectal thrombosis;
profuse bleeding during bowel movements;
hemorrhoids complicated by proctitis;
anal tears or fissures.
Before carrying out the procedure, it is necessary to exclude a number of contraindications, such as:
fungal, viral, bacterial, infectious and inflammatory diseases of the anorectal zone;
venereal diseases;
tuberculous disease of the tissues of the anus.
Laser hemorrhoid treatment procedure
Before the procedure, it is necessary to pass a general blood and urine test, do an ECG and fluorography. An appointment and consultation with a proctologist is also required.
Laser removal of hemorrhoids takes place on an outpatient basis and takes about 3 hours, after which, in the absence of complications, the patient is allowed to go home. Removal of nodes is performed under local anesthesia, but if the patient wishes, general anesthesia is also used.
When carrying out manipulations, the patient is placed in a gynecological chair or on a couch, bending his knees. Before the start of exposure to the laser beam, the anus is treated with an antiseptic.
The order of the doctor's actions when removing hemorrhoids with a laser is determined by the chosen technique:
with transmucous cauterization, the nodule is removed as close as possible to the mucous membrane of the rectal canal, the area of the focus is reduced due to the lack of blood flow;
with the subdermal-submucous method, the external node is pierced, after which a coagulator is introduced, which burns it out from the inside.
At the end of the operation, her area is re-treated with an antiseptic, and the patient is under observation for about 2 hours. Up to three nodes can be removed in one procedure, so reoperation is often not required.
To make an appointment for a consultation, call Contacts 7503 A1, MTS, Life. Online booking